One of my goal words for 2020 is: Spirit-Led.
Last year, a year of self-care, left me with a profound desire to ensure this sense of renewal that I feel is put to good use.
I regularly find myself asking, What is God calling me to do today? Am I directing my effort where it matters the most?
I am therefore reminded of a favorite Bible story:
Esther and the King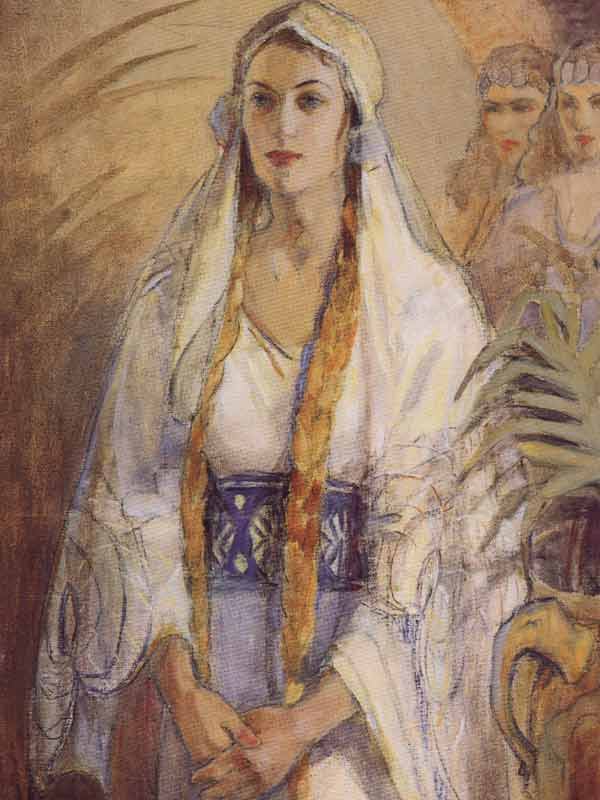 Esther was a young woman, a Jew, in an era of persecution, who eventually became Queen of Persia.
Among the king's advisors, a man named Haman, who had recently been promoted, paraded near the gate of the king, and grew in pride and anger when he discovered that one man — Esther's uncle, Mordecai — refused to bow in reverence of his position.
In his wrath, as great as it was, Haman determined it was not enough to punish Mordecai alone, and he took the matter to the king with the intent to punish Mordecai's entire people.
Haman aired a grievance against the Jews and (presumably) their manner of worship, contending: "…their laws are diverse from all people; neither keep they the king's laws: therefore it is not for the king's profit to suffer them" (Esther 3: 8 KJV).
He even offered a bribe: "If it please the king, let it be written that they may be destroyed: and I will pay ten thousand talents of silver to the hands of those that have the charge of the business, to bring it into the king's treasuries" (Esther 3: 9).
King Ahasuerus, unaware of his wife's lineage, agreed.
When the tragedy of the law was brought to Esther's attention, she received a plea from her uncle, on behalf of all of the Jews in the kingdom, to disclose her identity and beg the King to spare her people.
But she feared for her life, explaining:
"All the king's servants, and the people of the king's provinces, do know, that whosoever, whether man or woman, shall come unto the king into the inner court, who is not called, there is one law of his to put him to death, except such to whom the king shall hold out the golden sceptre, that he may live: but I have not been called to come in unto the king" (Esther 4: 11).
Mordecai's response may be one of my favorite verses of scripture in the Old Testament. He said:
"For if thou altogether holdest thy peace at this time, then shall there enlargement and deliverance arise to the Jews from another place; but thou and thy father's house shall be destroyed: and who knoweth whether thou art come to the kingdom for such a time as this?" (Esther 4: 14).
In other words — if you hold your peace, God will find another way, but you will miss the opportunity. And not only that, but your whole life has prepared you for this moment. You are uniquely and exactly qualified to answer this call.
Hearing this, Esther braced herself to assume the risk.
She "put on her royal apparel, and stood in the inner court of the king's house…And it was so, when the king saw Esther the queen standing in the court, that she obtained favour in his sight: and the king held out to Esther the golden sceptre that was in his hand… Then said the king unto her, What wilt thou, queen Esther? and what is thy request? it shall be even given thee…" (Esther 5:1-3)
And it was.
Esther extended a dinner invitation, where she pleaded with the king: "If I have found favour in thy sight, O king, and if it please the king, let my life be given me at my petition, and my people at my request: For we are sold, I and my people, to be destroyed, to be slain, and to perish" (Esther 7: 3-4).
"Wherein the king granted the Jews which were in every city to gather themselves together, and to stand for their life" (Esther 8:11).
Can you imagine?
She faced a decision, a call, that risked everything she knew, up to, and including, her own life. And, in taking that leap of faith, Esther enabled freedom for an entire nation.
Every call is different.
Have you ever felt that call? That pull to do something more? To do something unexpected? Or to pour into something with more fervor?
We are all wildly unique and different. You might be called to minister, to stay home and pour into your children, to write, to build a community, or something completely unrelated.
Each option is valid, wonderful, and specific to you!
More critical, perhaps, is the willingness to listen to whatever that call might look like for you.
"Sacrifice Required"
This may also mean leaving behind something comfortable — something good — for something better.
In scripture, we often see the cycle of hardship and adversity, followed by prayer and humility, a season of prosperity, and then a return to pride.
I think this is because, we feel in our heart of hearts that there is something more on the horizon, but, after suffering in the trenches, it hurts to let go of the simple and reliable. We avoid the whispers of the Spirit in order to avoid the pain.
But Jesus taught, "Consider the lilies how they grow: they toil not, they spin not; and yet I say unto you, that Solomon in all his glory was not arrayed like one of these. If then God so clothe the grass, which is to day in the field, and to morrow is cast into the oven; how much more will he clothe you, O ye of little faith?" (Luke 12: 27-28)
And C.S. Lewis once illustrated:
Imagine yourself as a living house. God comes in to rebuild that house. At first, perhaps, you can understand what He is doing. He is getting the drains right and stopping the leaks in the roof and so on; you knew that those jobs needed doing and so you are not surprised. But presently He starts knocking the house about in a way that hurts abominably. … [You see,] He is building quite a different house from the one you thought of. … You thought you were [being] made into a decent little cottage: but He is building a palace. He intends to come and live in it Himself.
Friends, God will take care of us. He knows what He is doing.
Here's to the courage to follow the Great Leader, the Redeemer, and the Keeper of Our Souls. I don't know the meaning of all things, but I do know this: He loves us.
❤ Jenny